This post will cover my favorite foundations. Foundation will really set the "canvas" for the flawless look, to really even out skin. Foundation might not cover bad acne (although the foundations I have listed should), though it will definitely even out the skin tone, discoloration, redness, etc. If I'm in a rush or just want to enhance my face with the bare minimum, I'll use some mineral powder foundation and mascara.
Below, Revlon Colorstay "Makeup with Softflex" is my liquid foundation of choice. It runs at around $12 dollars, which, for it's quality, is a great price. Many high-end foundations run in the range of $30-$40 and might be of equal or even worse quality than this foundation. I use it when I want a lot of coverage, though you can apply a small amount or mix it with moisturizer for light coverage. I usually use about 2 layers for full coverage. I apply it with a sponge, and you can dampen it with some water if you want it to absorb less product. Personally, I don't think brushes blend foundation very well, but you should use whatever you think brings about the best result for you. This product is a good price, high quality, and has a great range of colors. You can get it at any Rite Aid, Walmart, CVS, Target, etc.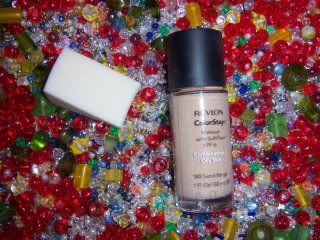 It can be tricky, though , to find the right color match without being able to test it or have someone to match you, so I would recommend either splurging once on department store foundation or getting a sample from a makeup counter and then taking it to the drugstore to match it. People rave about Makeup Forever's foundation , $40, and at a similar price Prescriptives makes foundations specifically for sensitive skin and custom blended foundation, though I haven't tried these products.

Revlon Colorstay can be compared to Mac Studio Fix Fluid liquid foundation, but I think it's even better because Mac foundations tend to break people out or can be irritating for those with sensitive skin. The packaging is even similar. Speaking of packaging, I do wish this came with a pump or in a tube, but i just turn the bottle upside down and pour some on the sponge, which works okay because I usually use a good amount. I have tried Mac Studio Sculpt foundation, which I liked at first, but then once I took pictures my skin looked like a mannequin's and it broke me out. Mac's foundations are usually $25-30$.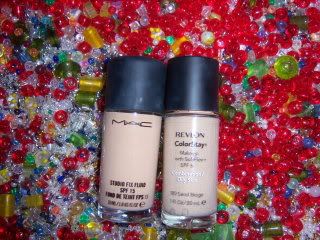 If you use liquid foundation you still need to set it with a powder so it will last through the day. My favorite powder/mineral foundation is Bare Minerals by Bare Escentuals. When I want a lighter feeling I use it alone, though it still gives great coverage, and went I want super full coverage I use it over the liquid foundation. It can give you full coverage on it's own with a few layers and will keep your face looking matte (non-shiny) for a long time, and is supposed to be all natural and non-irritating (you can never be 100% sure though).


The thing with this product though is people seem to either love or hate it. For some people it has completely cleared up their skin, for others it may irritate it. So you probably just need to try it out for yourself, and you can always return it if you don't like it. I apply it with a kabuki brush, an expensive one is not necessary. The small size (below is the Bare Escentuals "handy buki") is really good for when you want to concentrate it in a certain area. For application, you pat out some powder into the lid, swirl it around, and then "buff" it into your skin by brushing in circles so it really adheres to the skin. It does tend to be a little messy though, so I would recommend opening it over a paper towl/the trash etc. and before you have your outfit on so it doesn't get all over you. This runs for about $25.

If you end up putting too much on you can either spritz your face lightly or a brush (and then dab gently on your face) with either water, Mac Fix+, or a glycerine and water mixture with a few drops or up to 1/3rd part glycerine (which can be purchased at some drugstores/Walmart type places). This will get rid of the powdery look and help it adhere to your skin. Glycerine is also in Fix+, but Fix+ has some extra ingredients like cucumber extract. I don't own this because I'd rather just mix my own for a cheaper price . Fix+ is about $18. Glycerine is what is used in mixing mediums that you use to apply eyeshadows wet so that the pigment mixes together and sticks to your lid, so it's a similar premise.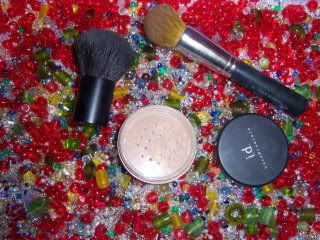 Pressed Powders are great to set a liquid foundation with a lighter powder, or for light coverage on its own. It's best not to try to get heavy coverage with pressed powders because it will just look obvious and too powdery. Below is Mac Pressed Blot Powder. I recommend this over Studio Fix because Studio Fix is heavier and tends to cake easier, at least on me anyway. But it might work with a light hand.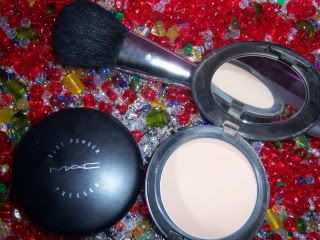 I also like Jane Iredale's pressed mineral powder, though this is on the expensive side. It's $50. Wait...what? I don't remember spending that much. The products are good quality (the concealers are very good as well), but I'm sure drugstore pressed powders work well too (I've read good reviews about L'oreal True Match), I just don't own any at the moment. Or at least another "higher end brand" like MAC, Estee Lauder, or Prescriptives who sell their powders usually for around $25-$30.


So, my top two are Revlon Colorstay and Bare Minerals. It's important to note that products can work differently for different people and on different skin types, and that people need to test products for themselves to really see what they think. That said, I have combination skin (oily forehead, dry nose) and these products work well on both of those areas and these products are widely recommended. Although, as I said before, Bare Minerals is kind of a love/hate thing. Hope this was informative, if I decide to post pics of my whole face I'll show how each of the products look on my skin.
What foundations/powders do you like? Which have you had a bad experience with?

Thanks for reading.

♥