Because of the price (like $2, but depends where you get them) I got a ton of NYX Round Lipsticks. I would recommend getting these if you want to try out different colors without spending a ton of money. You could try out 11 of these for one NARs or Urban Decay lipstick.
I do have to say that the matte lipsticks can be a little drying on the lips, not very long lasting, and definitely accentuate the lines (on me at least...some people love them), except for the red one (Chaos). They do carry gorgeous reds. The frosty and shimmery colors are more moisturizing and last for a while, but don't expect them to last all day (none really do anyway). You can always get these just to see how a color looks on you and then purchase a similar color from a higher end brand. I'd do that more for mattes because sheer lipsticks of any brand seem to wear pretty similar, but it's harder to find a moisturizing matte lipstick.
In order: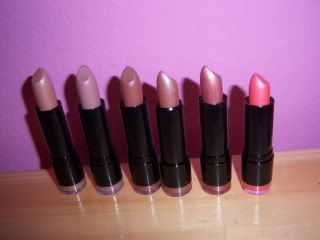 frosted flakes, ceto, cinnamon sugar, cream, summerlove, vitamin.