Bronzey-gold shadow is my go-to color. It's so versatile because it can be subtle enough for a conservative work environment, but you can also glam it up for any occasion. It also looks great on most skin tones, in my opinion, though you have to watch out for orangey-ness in some shadows if you don't like that.
♥Here I applied the lighter golden color all over the lid (Mac's Gold Mode pigment, applied the darker brown pigment in the outer corner and lightly in the outer crease (Mac's gold stroke pigment), and put the frosty white pigment (Mac's Frost pigment) on the browbone and in the inner corner of the eye. I also added a touch of black eyeshadow in the outer corner (I used Stila's). I used the pigments with a mixing medium though you don't need to. These particular pigments all have shimmer to them.
These pigments were included in the holiday pigment set, which is a great value. Individually they're about $20 and include a huge amountm but it's pricey for one color you probably won't use up, so I would recommend getting the holiday sets (I think somewhere in the 40s for 5) or getting samples because you won't have to use much anyway.The powders are very, well, pigmented. I love Frost because you can use it as a lid color, a browbone highlight color, a cheek bone highlight color, or on top of other shadows to give them a little glimmer.
♥ Finish the eye with some mascara (I used L'oreal Telescopic), any black liquid liner on the top lash line, and any black pencil liner on the bottom lash line.
♥You can do anything you want with the lipcolor. For a glammed up look, try bright red lips.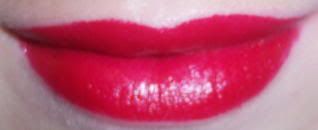 ♥ Above is NYX's round lipstick in Chaos.
♥This is what I used:
Thanks for checking out this look.
♥