The following are my top 5 favorite (pressed) eyeshadow brands, in order from the cheapest to the most expensive.
First on my list is
NYX
. Their eyeshadows are really good quality at a good price, about 3 to 5 dollars for the singles, 5-7 for the trios, depending on where you get them. Some drugstores, beauty supplies, and random boutiques sell NYX products, but usually not a huge range, so it's a little strange. But for the price and quality it's worth getting them online if you don't have access to them.
nyxcosmetics.com
,
cherryculture.com
, and
nonpareilboutique.com
all sell them. I've ordered from Nonpareil Boutique, which has some of the best prices, and I got my perfectly intact products in
2 days
since I live close to the mailing site. Be sure to check out real swatches of these shadows on makeup forums and sites because the "swatches" on these sites aren't true to the color.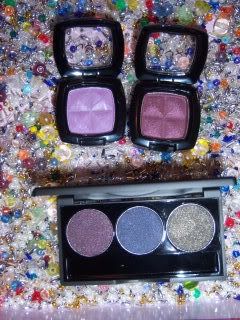 These shadows are soft and really pigmented, comparable to MAC and high quality shadows. Some people think they can be a little powdery/chalky, but most shadows can be like this, since they are powders after all. If you pat them on with a brush it'll be fine. I think it's best to apply any eyeshadow before foundation just to be safe, so that you can wipe away any stray shadow before you start on your face. That way you don't have to keep reapplying foundation in places you have to wipe away shadow. Sorry these swatches kind of suck, but the next are much better. I didn't realize my camera would suck so bad at taking swatches!
These colors, from L to R, are
Daffodil
and
Eggplant
, and on the bottom is the trio called
Lake Moss
. The swatches are in the same order.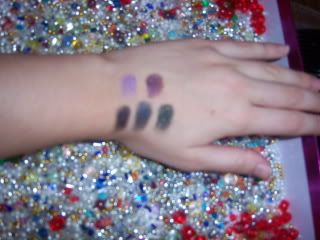 Now, to be honest (no one kill me please),
MAC
shadows aren't at the very top of my list. I think they are so popular because they come in a wide range of colors, the executives there have their marketing technique down with all of the new limited edition collections, gearing their products towards makeup artists (hence the name Makeup Artist Cosmetics), and being of mid-price range compared to other high end brands. They do come out with many products in unique colors that are of good quality, and it's fun when they have new collections that incorporate an interesting idea or someone widely admired in the industry. For example, I really like their range of lip products and they happen to be cheaper than other high end brands. When it comes to eyeshadow, though, I think NYX has just the same, if not better, pigmentation, are much cheaper, and also have a large selection of colors (even hard-to find ones like yellows and reds).
But, MAC is such a favorite and so widely used that I had to include my pallette. The only reason I really have this is because I got it with a few colors in the kit from the makeup course I took, so I thought I might as well fill it up. The shadows are $14.50 for the pots and $11 dollars for the refill pans below. It might end up being equal once you factor in the price of the palette. I just swatched the middle ones because the row on the right is self explanatory and the row on the left barely shows up on my skin and are pretty similar.
Colors from L to R, Top to Bottom:
carbon, contrast, greensmoke, amber lights, rice paper
brun, creme de violet, sumptuous olive, electra, naked lunch
cork, aquidisiac, juxt, honey lust, vanilla.
The weird pokes in the middle green shadow are there because at first I didn't know how to properly de-pot shadows, and the second to the left on the bottom randomly cracked today when I opened it. My favorite is honey lust, and I don't really like amber lights because it shows up super orangey on my skin tone. You can easily find a similar black to carbon for a cheaper price, and I prefer my NYX white brow highlight color (called white pearl) than any of these because it shows up better. Buy Mac products at Macy's, Nordstrom's, and free standing Mac Stores or online at
maccosmetics.com
.
Next is
Urban Decay
. These eyeshadows are super pigmented, have a nice texture, and blend very well. They are on the expensive side at $18 dollars each, but if you buy one of the palettes it will factor out to getting each shadow at a highly discounted price.
The Deluxe Shadow Box
below was $36. You can get Urban Decay at
Sephora
,
Ulta
, or
urbandecay.com
. I think these shadows are more pigmented than Mac's and blend better, though they are more expensive. But only if you buy them in singles. If you buy a palette, each color comes out to
$4.
Even less because it came with some eye primer.
These may have shown up the best. From L to R:
Fishnet, Honey, Ransom

Graffiti, Zero, Peace

Shag, Scratch, Underground

The Two Faced shadows are very similar to Urban Decay's, and the cheaper-in-a-palette-than-in-singles applies here too. Great quality. This palette, called Eye Shadow Insurance Policy, is $35 and comes with a full sized tube of Shadow Insurance which is Too Faced's eyeshadow primer that works really well. That on it's own is an $18 dollar value. Both Urban Decay and Too Faced have many great (and cute!) palettes available.
L to R, top to bottom:
full frontal, glamazon
socialite, boy toy

skinny dip, lucky charms


At the very high end and most expensive side of the spectrum is Chanel's shadows. These quads are so much cheaper than buying a single. A quad is about $50 (48). That's similar to buying 4 Mac shadows. But if you buy a single Chanel shadow, you're going to spend $30! Crazy. The quad below is called Beiges de Chanel and with it you can create perfect nuetral-bronze eyes.


And this next one is called Smokey eyes. I love that they come in coordinating shades, perfect for a lighter and darker lid color, a crease color, and a highlight color. Great for a sexy smoky eye with a sparkley silver twist. The shades in the top left corner have non-chunky glitter that adds just the right amount of shimmer.
Swatches of both of the quads below. Department stores carry Chanel cosmetics.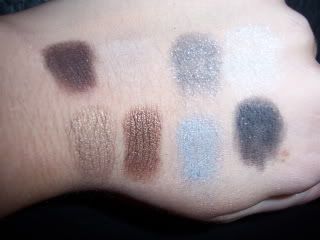 And there you have it. Hope you enjoyed it or maybe learned something. There's plenty of other brands out there though, but these are what I personally use and like the most. If you have extra cash,
Nars
is another good quality, highly pigmented brand, but pretty expensive.
narscosmetics.com
What shadow brands do you like?

Thanks for reading.
♥